Give your clothing and textiles new life!
The average U.S. citizen throws 70 lbs. of clothing away annually! Yet unwanted clothing can take on a new life in someone else's closet or recycled for another use such as shop rags or stuffing for a new chair. Acceptable textiles for donation can include clothing (shirts, dresses, pajamas, ties, tec.), belts, shoes, blankets, comforters, decorative pillows, quilts, table cloths, stuffed animals and even pet beds. (Holes in textiles are okay.) Materials must be clean and odor free, so no oily rags or other materials that might be difficult to recycle or that would contaminate other clothing. Check with the donation facility first to determine what items they accept and in what condition.
Churches and civic groups often hold events to collect or swap clothing. Check papers and social media for opportunities.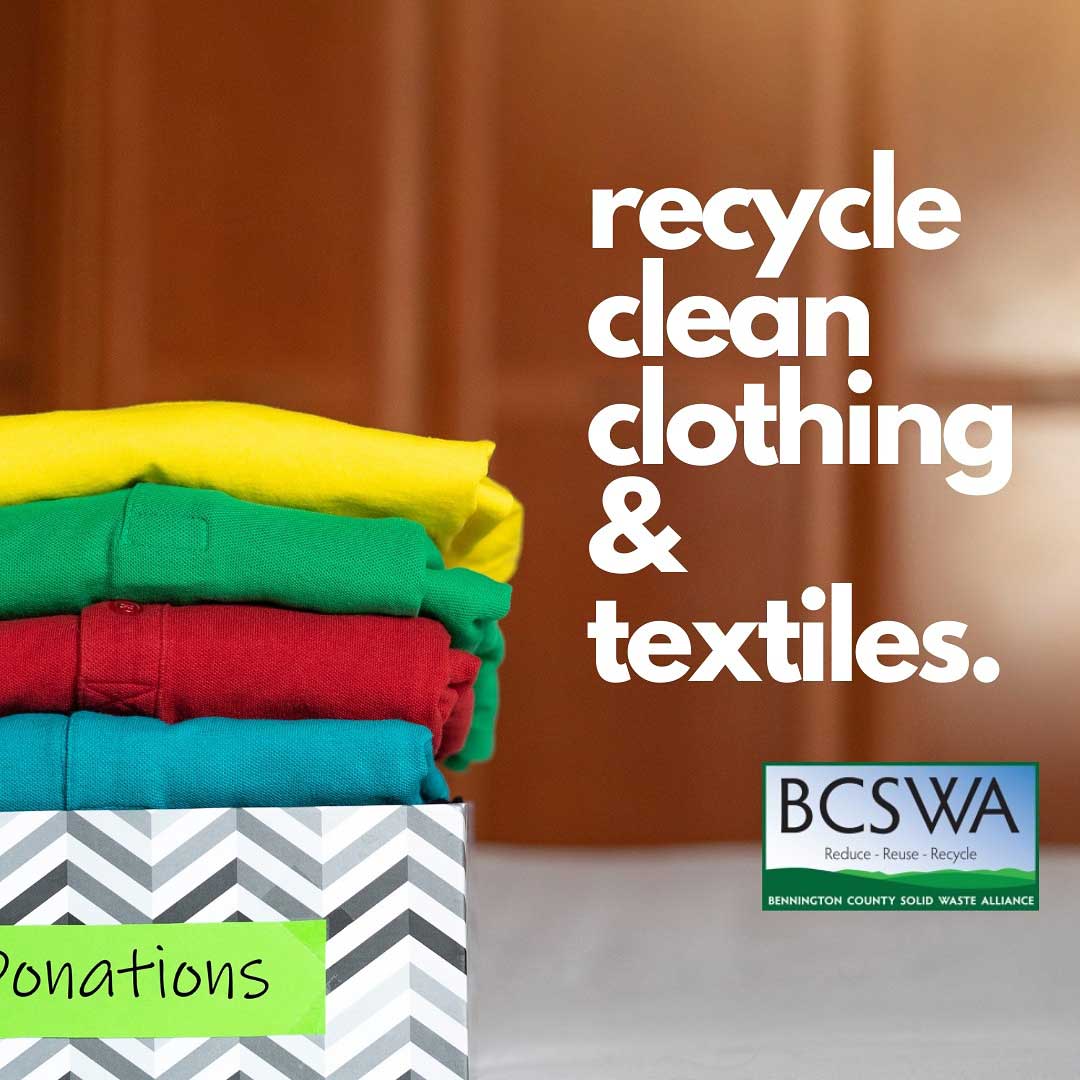 Goodwill Industries  BENNINGTON Donation Drop Off Center
215 North St
Bennington, VT 05201
802-442-4285
Hours:
Monday - Saturday 10 am to 6 pm
Sunday 11 am to 5 pm
Goodwill Industries  MASSACHUSETTS Donation Drop Off Center
166 State St
North Adams, MA 01247
413-749-8999
Hours:
Monday - Saturday 10 am to 6 pm
Sunday 11 am to 5 pm
VNA & Hospice of the Southwest Region
5468 Main St.
Manchester Center, VT 05255
802-362-1255
Hours:
Monday - Friday 11 am to 4 pm
Second Saturday of each month 10 am to 3 pm (Seasonally April 13- October 12)
24-hour drop boxes available
Additional Drop Off Location:
Berkshire Bank Parking Lot
3450 Richville Rd,
Manchester Center, VT 05255
Hours:
Every Saturday 1:00pm to 6:00 pm
Every Sunday 11:00 am to 4:00 pm
Arlington Drop Boxes
Arlington Transfer Station*
4561 Sunderland Hill Rd.
Heer, Inc.*
3713 VT – 7A
Chem-Clean Furniture Restoration*
4095 VT – 7A
Wayside Country Store*
3307 VT Route 313 W
Bennington Drop Boxes
Bennington Beverage Outlet*
125 Northside Dr.
Bennington Transfer Station*
904 Houghton Ln.
Tenney Brook*
261 Benmont Ave.
Hannaford
141 Hannaford Sq.
Dorset Drop Boxes
Dorset School*
130 School Dr.
H.N. Williams*
2732 VT Route 30
East Dorset Drop Box
Northshire Transfer Station*
310 Tennis Way
Pownal Drop Boxes
Pownal Transfer Station*
645 Maple Grove Rd.
Winchester Store*
6185 Route 7
Manchester Drop Box
VNA & Hospice
5468 Main St.
Sunderland Drop Box
Sunderland Transfer Station*
4561 Sunderland Rd.