While electronic waste is a small portion of overall waste in Vermont, it is the fastest growing portion of all waste. Electronic devices contain toxic materials (including lead, mercury, and chromium) that should be managed responsibly as well as precious metals (such as gold) that should be recovered and recycled. Electronic waste is banned from all Vermont landfills and recycling these items not only reduces the amount of waste going to landfills it also reduces the rate at which we need to mine these finite resources. Electronic waste does NOT get recycled with curbside recycling.
The Vermont Department of Environmental Conservation's E-Cycles program provides convenient and free collection of computers, monitors, printers, computer peripherals, and televisions to consumers, charities, school districts, and small businesses that employ 10 or fewer individuals. Other individuals who bring in seven (7) or fewer devices can also recycle at no charge.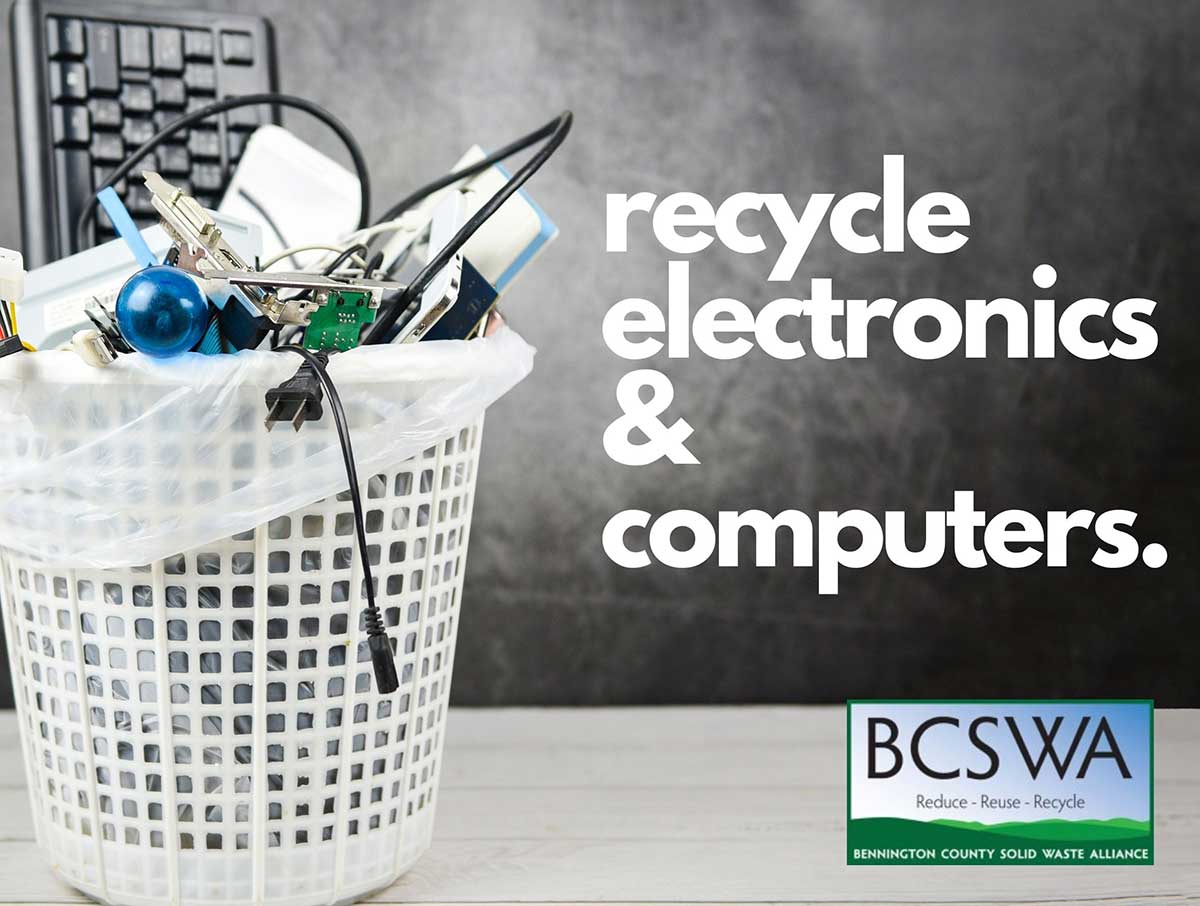 Items Accepted for Recycling:
Computers – desktops, all-in-one computers, laptops, notebooks, netbooks and tablets
Computer Monitors – any type, i.e. CRTs, flat panel displays, LCD displays, plasma displays
Printers – most types including multifunctional machines - does not include floor-standing models
Televisions – any type, i.e. CRTs, flat panel displays, LCD displays, plasma displays
Computer Peripherals – items sold exclusively for external use which connect to a computer such as a mouse, keyboard, scanner, external hard drive, modem, UPS, computer speakers, etc.
Other electronic items such as VCRs, DVD players, radios, stereo equipment and others are accepted, but there may be a charge.  Check with the facility first.
Locations Accepting E-Waste
Goodwill Industries
215 North Street
Bennington
802-442-4285
Hours
Monday - Saturday 9 am to 7 pm
Sunday 10 am to 6 pm
Staples
5 Kocher Dr.
Bennington
802-442-3919
Hours
Monday  – Friday 9 AM – 7 PM
Saturday 10 AM – 7PM
Sunday 11 AM – 5 PM
Bennington Transfer Station
904 Houghton Lane
Bennington
800-499-4370
Hours
Monday - Friday 8 AM – 4 PM
Saturday 8 AM – 12 Noon
Northshire Transfer Station
310 Tennis Way
Dorset
(802) 499-4370
Hours
Monday - Friday 8am-2pm
Saturday 8am-12pm
Pownal Transfer Station
Maple Grove Rd.
Pownal
802-379-1470
Hours
Wednesday, Friday, & Saturday, 8 AM – 4 PM
Searsburg Transfer Station
Searsburg Transfer Station
18 Town Garage Rd.
Searsburg
802-688-3488
Hours
Call for hours
Sunderland Transfer Station
4561 Sunderland Hill Rd.
Arlington
(802) 499-4370
Hours
Monday - Tuesday: 7:30 AM – 2 PM
Thursday - Friday: 7:30 AM – 2 PM
Saturday: 7:30 AM - 11:30 AM