Recycling and Disposing of Mercury Thermostats
Thermostats found in homes and commercial locations are used to regulate air temperature. Older ones contain anywhere from 2.5 to 10 grams of mercury, enough to contaminate a small lake. Mercury containing devices should not be thrown in the trash but disposed of properly through household hazardous waste collection events or designated locations accepting them. Retail and most wholesale locations will give a $5.00 rebate coupon for thermostats.
To determine if your thermostat contains a mercury switch, remove the front cover. Once the cover is removed you should be able to locate one or more glass ampoules (switches) that contain a silver liquid (mercury).
Newer electronic thermostats are mercury-free and programmable ones allow your heating system to work more efficiently and save you money. Any mercury-containing thermometers require proper disposal too and should not be thrown in the trash.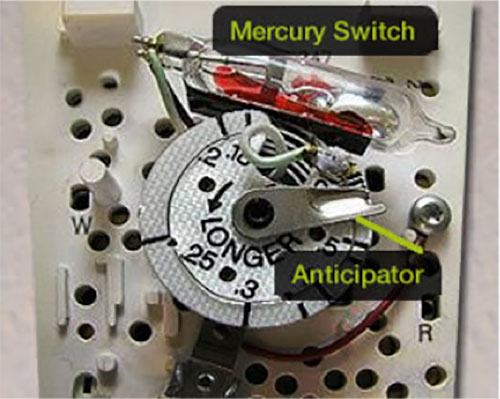 F. W. Webb
240 East Rd.
Bennington
(802) 447-2312
Granite City Electric Supply
435 Morse Rd.
Bennington
(802) 442-8155
Bennington Cooling & Heating
308 Depot St.
Bennington
(802) 442-3519
R.K. Miles
691 Depot St.
Manchester Center
(802) 362-1952
Miles Lumber - Do It Best
178 Chittenden Dr.
Arlington
(802) 375-2525