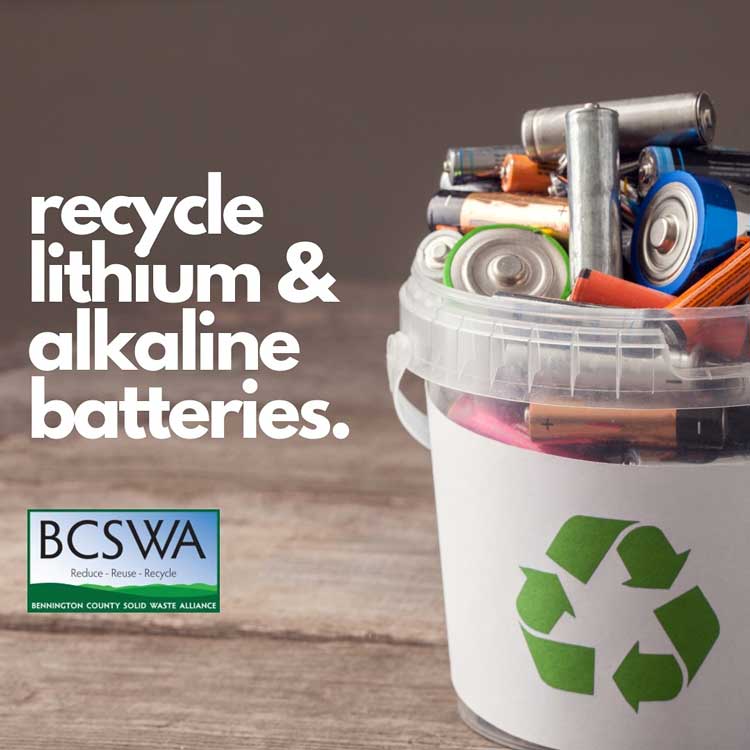 Batteries are everywhere.
Batteries are in an increasing number of items we use every day from
mobile devices, power tools, appliances, toys, greeting cards and even
diapers! While they have made our lives more productive and
enjoyable, batteries require careful disposal at their end-of-life to
avoid contaminating our environment or starting a fire. Vermont has a
successful product stewardship program where batteries are recycled
or taken to a hazardous waste collection event or facility.
Batteries are characterized as single-use also known as "primary"
(alkaline and carbon zinc dry cell), or rechargeable (Nickel-cadmium,
lithium ion, nickel metal hydride, and small sealed lead acid).
Safe Battery Recycling Tips:
Battery terminals that touch metal surfaces or other batteries can spark, causing a fire or explosion!
Place batteries in their original packaging, cover the terminals/ends with clear sealing tape, or store in a sealed plastic bag. For button batteries, lay out a strip of tape and place batteries in a line folding excess tape over top to seal all sides.
Store in a non-metal container until ready for drop off at site near you accepting batteries. Store batteries for no more than six months.
Call ahead to make sure the site is accepting batteries you have for disposal.
Visit www.call2recycle.org/Vermont for more information and locations.
Locations Accepting Alkaline & Rechargeable Batteries
EZ Way Rental
115 County St.
Bennington
802-442-8393
ACCEPTING
Rechargeable batteries
Alkaline batteries
Single-use batteries
Cell phones
The Home Depot
121 N Bennington Rd.
Bennington
802-447-9997
ACCEPTING
Rechargeable batteries only
Miles Lumber
178 Chittenden Dr.
Arlington
802-375-2525
ACCEPTING
Rechargeable batteries
Alkaline batteries
Single-use batteries
Automotive batteries
R.K. Miles Inc.
691 Depot St.
Manchester
802-362-1952
ACCEPTING
Rechargeable batteries
Alkaline batteries
Single-use batteries
Cell phones
Staples
5 Kocher Dr.
Bennington
802-442-3919
ACCEPTING
Call first
Individual batteries cannot exceed 12lbs
No alkaline batteries
Bennington Transfer Station
904 Houghton Lane
Bennington
802-499-4370
ACCEPTING
Rechargeable batteries
Alkaline batteries
Single-use batteries
Cell phones
Northshire Transfer Station
310 Tennis Way
Dorset
802-499-4370
ACCEPTING
Rechargeable batteries
Alkaline batteries
Single-use batteries
Cell phones
Pownal Transfer Station
Maple Grove Rd.
Pownal
802-379-1470
ACCEPTING
Rechargeable batteries
Alkaline batteries
Single-use batteries
Cell phones
Sunderland Transfer Station
4561 Sunderland Hill Rd.
Arlington
802-499-4370
ACCEPTING
Rechargeable batteries
Alkaline batteries
Single-use batteries
Cell phones
Locations Accepting Automobile, Marine & Similar Batteries
The Home Depot
121 N Bennington Rd.
Bennington
802-447-9997
ACCEPTING
Rechargeable batteries only
Advanced Auto Parts
113 Northside Dr.
Bennington
802-447-0779
Napa Auto Parts
201 Benmont Ave.
Bennington
802-442-6387
Napa Auto Parts
5219 Rt. 7A
Manchester
802-362-1708
Advanced Auto Parts
113 Northside Dr.
Bennington
802-447-0779
Bennington Transfer Station
904 Houghton Lane
Bennington
802-499-4370
ACCEPTING
Residents, businesses and institutions of Bennington and Woodford
Pownal Transfer Station
Maple Grove Rd.
Pownal
802-379-1470
ACCEPTING
Residents, businesses and institutions of Pownal
Northshire Transfer Station
310 Tennis Way
Dorset
802-499-4370
ACCEPTING
Residents, businesses and institutions of Arlington, Dorset, Manchester, Sandgate and Sunderland
Sunderland Transfer Station
4561 Sunderland Hill Rd.
Arlington
802-499-4370
ACCEPTING
Residents, businesses and institutions of Arlington, Dorset, Manchester, Sandgate and Sunderland