Recycling and Disposing of Bulbs
Lamps containing mercury, including fluorescent tubes and compact fluorescent bulbs (CFLs), save energy over incandescent bulbs, but their end-of-life can result in adverse impacts on human health and the environment if not handled appropriately. More information on the effects of mercury can be found here. Mercury-containing products cannot be disposed of with regular trash or poured down the drain and must be recycled or managed as a hazardous waste.
Households in Vermont have a low to no-cost method to properly handle mercury products at the end of their useful life. The Vermont Agency of Natural Resources oversees manufacturers and retailers' implementation of their Extended Producer Responsibility (EPR) program to offer free recycling of fluorescent bulbs and mercury thermostats with locations throughout Bennington County. By keeping these bulbs out of landfills mercury stays out of the soil, air, and water reducing the possibility that mercury will accumulate in fish, wildlife, and humans.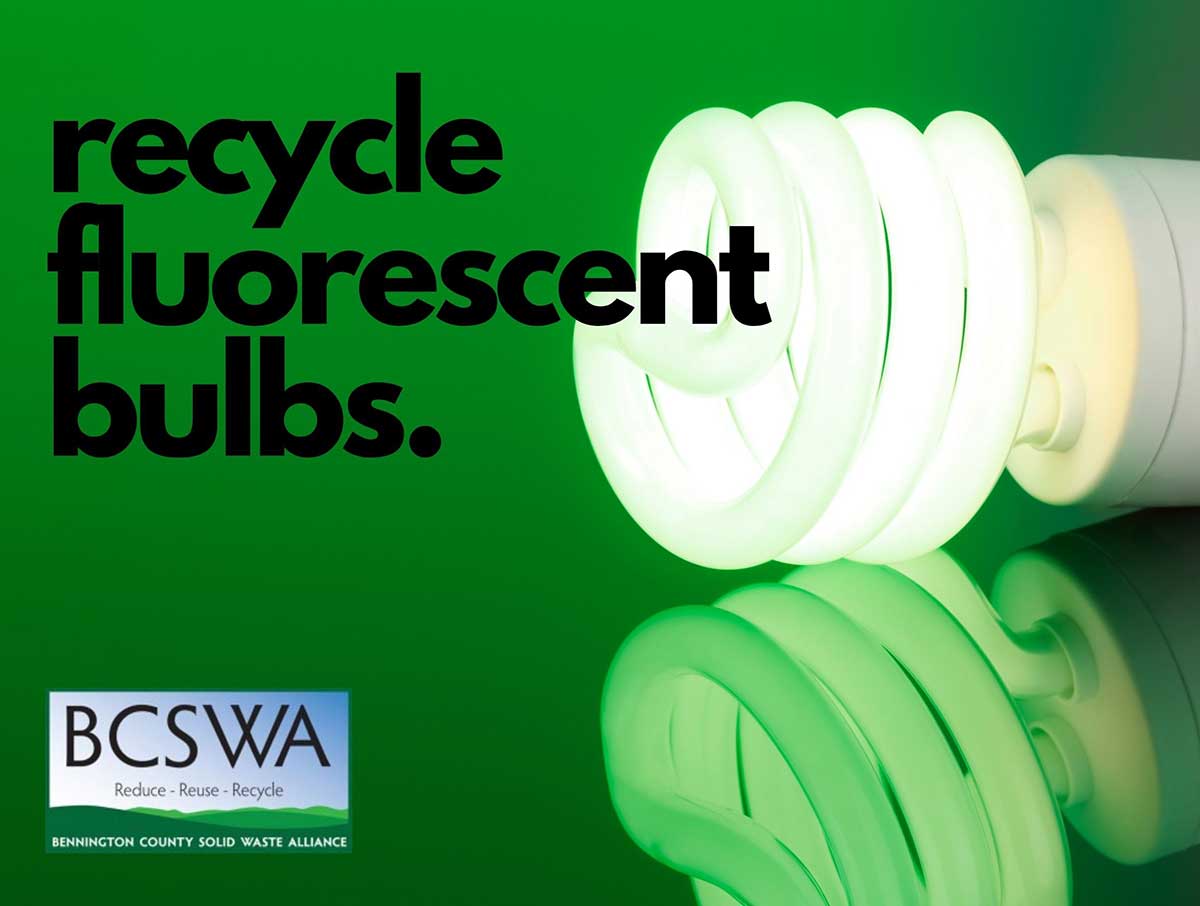 Participating Transfer Stations
Pownal Transfer Station
645 Maple Grove Rd.
Pownal
800-379-1470
HOURS
Wednesday, Friday & Saturday: 8AM - 4PM
ACCEPTING
Residents of Pownal
Sunderland Transfer Station
4561 Sunderland Hill Rd.
Sunderland
802-362-1789
HOURS
Monday, Tuesday, Thursday & Friday: 7:30AM - 2PM
Saturday: 7:30AM - 11:30AM
ACCEPTING
Residents of Arlington, Manchester, Sandgate and Sunderland
Northshire Transfer Station
310 Tennis Way
East Dorset
802-447-9997
HOURS
Monday - Friday: 8AM - 2PM
Saturday: 8AM - 12PM
ACCEPTING
Residents of Dorset and Manchester
Bennington Transfer Station
904 Houghton Ln.
Bennington
802-447-8737
HOURS
Monday, Wednesday & Friday: 8AM - 3PM
Tuesday & Thursday: 8AM - 1PM
ACCEPTING
Residents of Bennington & Woodford
Limit 10 bulbs per day.  NO BROKEN BULBS!
Home Depot
121 N. Bennington Rd.
Bennington
(802) 447-9997
(CFLs only)
Miles Lumber
178 Chittenden Dr.
Arlington
(802) 375-2525
Aubuchon Hardware
1131 Depot St.
Manchester Center
(802) 362-7000
R.K. Miles
691 Depot St.
Manchester Center
(802) 362-1952