Vermont is part of a growing list of states working with trade sponsored product stewardship initiatives to divert architectural paint from being deposited in landfills. Paint manufacturers are required to host a program for post consumer paint collection from residents and small businesses through retail locations and household hazardous waste collection sites and events.
PaintCare, Inc., a non-profit 501(c)3 organization represents the paint manufacturers to plan and operate the paint stewardship program in Vermont and other participating states. The program is funded by the manufacturers, generally through fees charged on the sale of paint sold.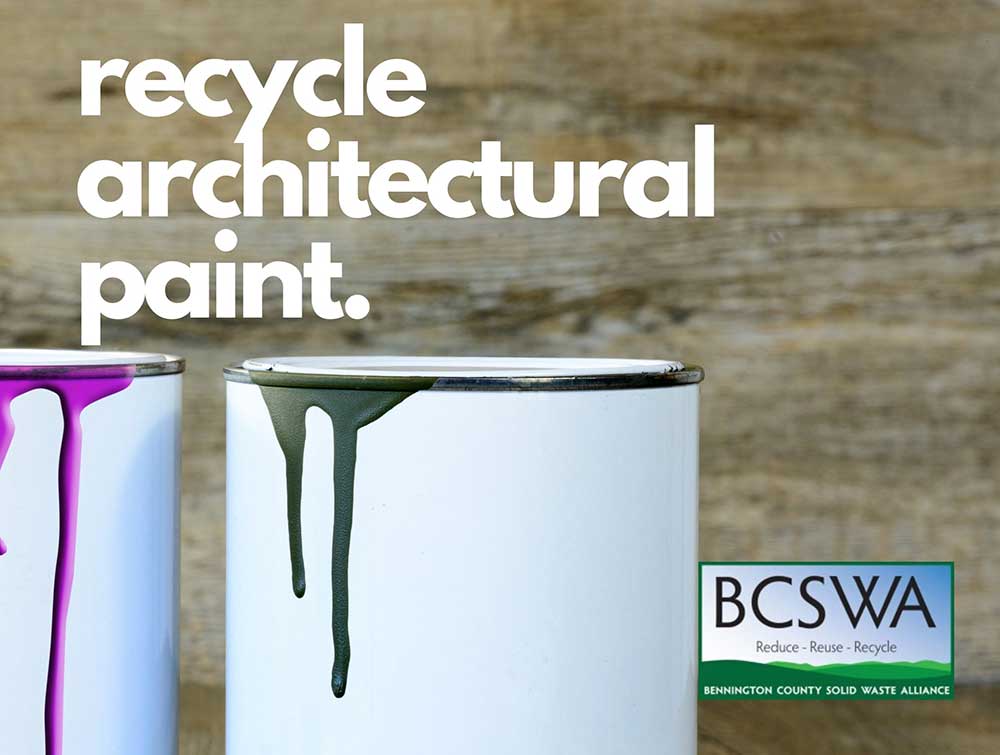 Interior and exterior architectural paints: latex, acrylic, water-based, alkyd, oil-based, enamel (including textured coatings)
Deck coatings, floor paints (including elastomeric)
Primers, sealers, undercoaters
Stains
Shellacs, lacquers, varnishes, urethanes (single component)
Waterproofing concrete/masonry/wood sealers and repellents (not tar or bitumen-based)
Metal coatings, rust preventatives
Field and lawn paints
Dried latex architectural paint in cans should be disposed in the trash. Dried oil based paint is still considered hazardous waste.
Paint thinners, mineral spirits, solvents
Aerosol paints (spray cans)
Auto and marine paints
Art and craft paints
Caulking compounds, epoxies, glues, adhesives
Paint additives, colorants, tints, resins
Wood preservatives (containing pesticides)
Roof patch and repair
Asphalt, tar and bitumen-based products
2-component coatings
Deck cleaners
Traffic and road marking paints
Industrial Maintenance (IM) coatings
Original Equipment Manufacturer (OEM) (shop application) paints and finishes
These items may be dropped off at household hazardous waste events.
Have questions about paint disposal through PaintCare.org?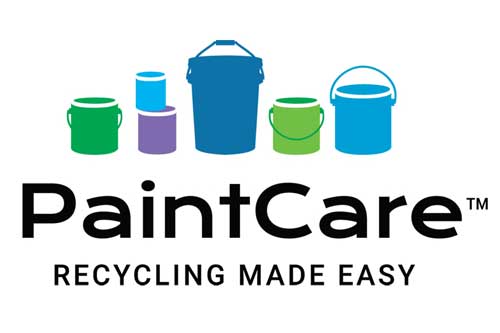 Drop off up to 5 gallons per day in original quart-sized to 5 gallon-sized containers with original labeling and still in liquid form.
Miles True Value
178 Chittenden Dr.
Arlington
(802) 375-2525
Aubuchon Hardware
1131 Depot St.
Manchester Center
(802) 362-7000
R.K. Miles
691 Depot St.
Manchester Center
(802) 362-1952
Sherwin Williams
215 Northside Dr., Ste. 8
Bennington
(802) 442-5489
Sherwin Williams
263 Depot St.
Manchester Center
(802) 362-2833
W.W. Building Supply
434 VT Route 100
Wilmington
(802) 464-3364